About our primary school
History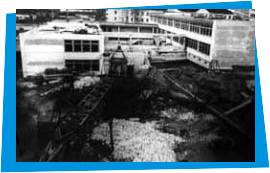 Our institution was founded in 1969 as Vilnius Kindergarten No 111. In 1994 it was reorganized into Nursery-Primary School. In 1996 the institution was named Vilnius "Žiburys" Nursery-Primary School (Žiburys means light). In 2005 it was reorganized into "Žiburys" Primary School. Our school provides learning environment which is stimulating, pleasant and peaceful.
Philosophy
To ensure our school is the place where everyone's responsibility and support go with realization of agreements leading to qualified education. It is the place where everyone is valued and strives to nurture individuals, enabling them to achieve the best of their ability within a happy, creative community.
 Pupils
Around 340 pupils from 6 to 11 years of age.
14 classes in which there are from 22 to 26 children.
Around 70 children with special needs.
30 children from families of national minorities.
Staff
Principal –
3 principal assistants
The staff at Vilnius "Žiburys" Primary School consists of 49 workers. The teaching staff consists of 23 qualified and certified professional teachers (6 teachers methodologists, 16 senior teachers). There are 6 Subject (English, Music, Dance, Physical Education and Religion) and 3 teachers for pupils with special needs.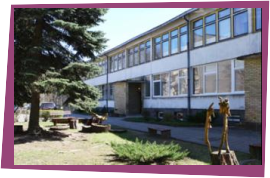 Address
Tuskulėnų g. 30, LT-09210 Vilnius, Lithuania
Phone: +370 5275 83 10
Fax: +370 5275 83 10
Email: rastine@ziburys.vilnius.lm.lt
Website: http://www.ziburio.vilnius.lm.lt
Projects
Nurturing socially responsible, creative individuals our school participates and organizes different projects.
Participates:
"European social fund agency", "Provision of nurture needs of talented children in primary institutions", the project of the Republic "Encouraging fruits and milk usage in schools", civil action "The memory is alive because it testifies itself", parental nurture programme "STEP (Systematic Training for Effective Parenting)"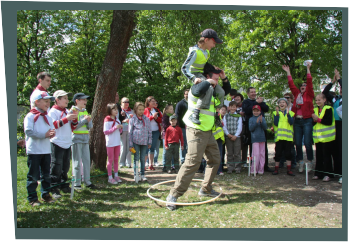 Organization:
Vilnius city fourth formers quiz "I know Lithuania and You?",
"A big world and a small person", "A little man is also
responsible for his school, town, surrounding", preventive
project "The light of our friendship", community celebration
"School's Day", project of parental support for the school
"Mother, Father where do you work?" celebration of the
school nominations "The White Jackdaw", healthiness project
"I grow straight and healthy", Christmas action "The week of
kindness", project of the pupils "I can help to teach",
"My Homeland and me", "Lithuanian Week", "Better Together
– European Language Day", "20th century, century of information
society", "Let's purify and beautify the world", "Lithuania and me",
"We are valiant when we are together", "Active community",
"I am Olympian", "A book is the source of knowledge and science",
"I create a school without aggression", "We are strong when we are together".
Social partners
Planetarium – organizes separate educational lessons.
The school of safety in the streets- organizes separate educational lessons.
Vilnius Kindergarten/Nursery "Drugelis" http://www.darzelisdrugelis.lt/
Vilnius Kindergarten/Nursery "Žvangutis" http://vilnius-zvangutis.lt/
Šarūnas Marčiulionis basketball academy http://www.krepsinioakademija.lt/
Psychological development center- parental, children, teachers consultation.
St. Rapolas Parish – common community projects.
Vilnius "St. Kristoforas gymnasium" – common community projects.
Public education department – maintaining school educational system.
Communities of national minorities and other schools – common projects, events.
Museums, theaters – educational programmes included into school nurture plan.
Art therapy center – http://www.artmusictherapy.lt/